We are very lucky to have a large family.  Generations mean a great deal to every breeder I have ever met.  Few have a home with a single generation living within. This is very true at Bwana Kennel.  We are proud to have three generations of both dogs and family residing with us. It brings many adventures and challenges that make life especially wonderful. With gentle and sure hands our puppies and children are raised. Allowing them to pass along that love and sense of ease.
This is Caitlyn loving on our Californian pups on their 2008 visit to Bwana Kennel. Song and Cruiser were both born in our home and Caity was one of the helpers with Song's litter, that love will never fade.
Song and Cruiser are Both loved and owned by Gaynl Smith and Paul Bachman, they have exceed any expectations a breeder might have for a home that was meant to be a family and compaion household. Song is and AKC CH and Both She and Cruiser are International Ch. with several titles after their names they are a course of great pride not simply to Gaynl and Paul but to all of us at Bwana as well.
 The holidays would pale around here if they ever became calm and simple. While I have envied the sparkling clean homes of friends and neighbors I would not trade away the times shared in our home.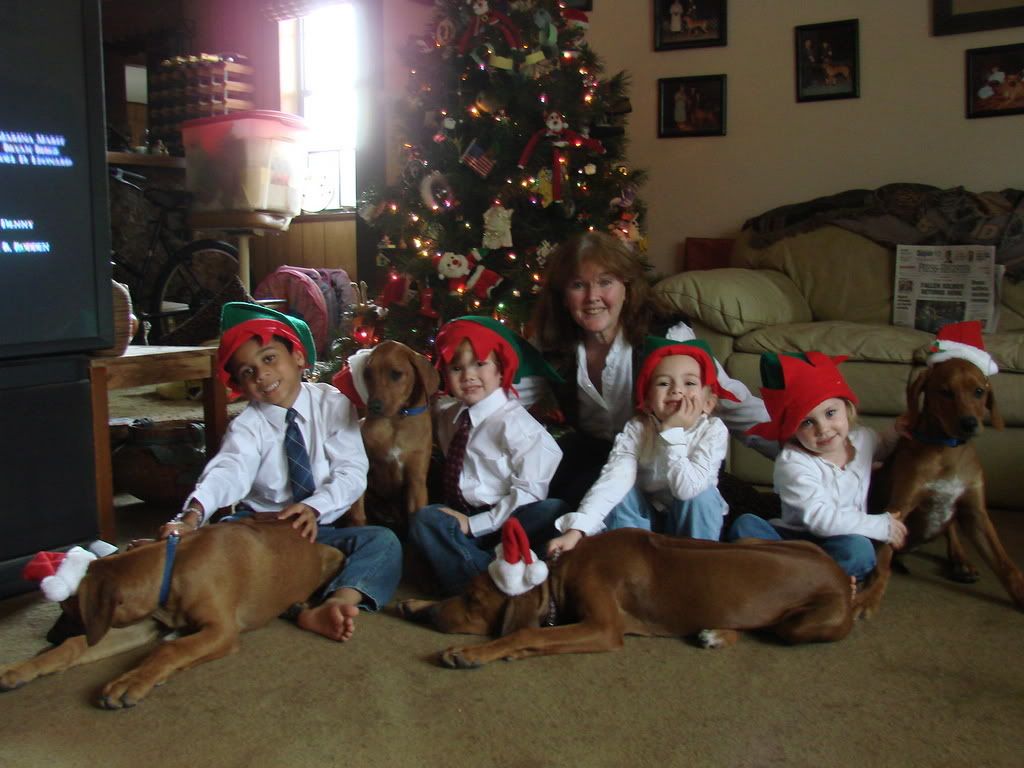 Tristan, Bobby , Caity and Ceattle with Shaka, Simba, Dreamer and Caine.     Christmas 2006  Shaka and Simba were picked up shortly after Christmas by their new families and now live the Island Life in the Bahamas!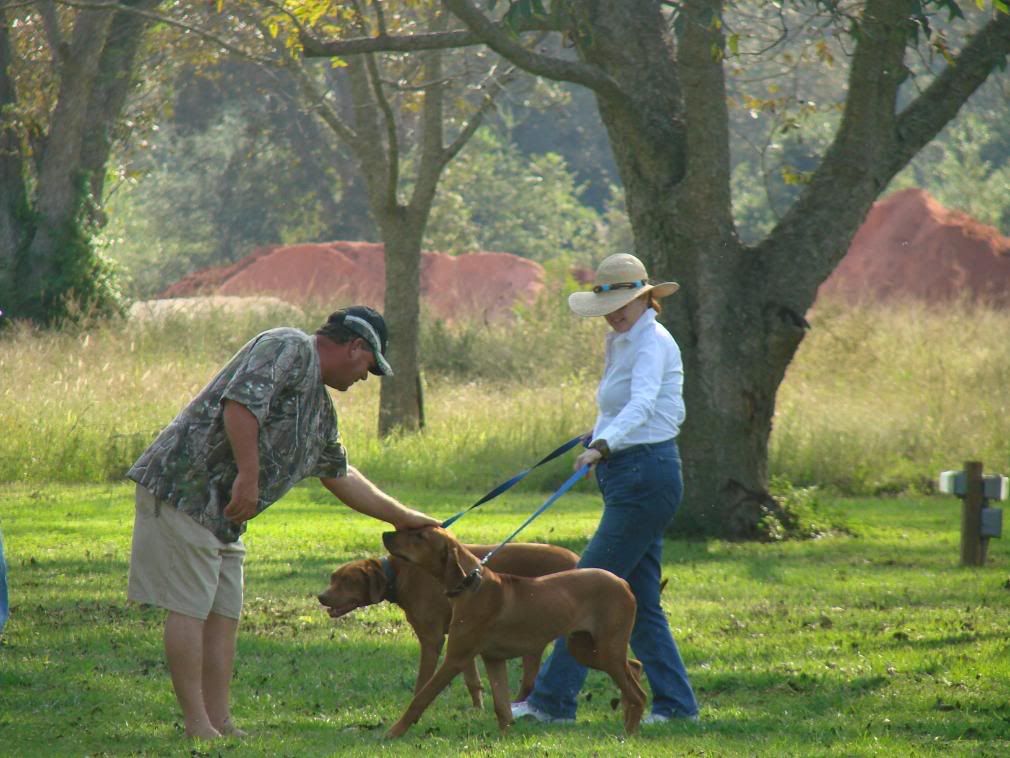 The dogs have a chance to socialize the dogs heavily owes much to the family schedule with school functions, soccer, softball and the life style of Southern Alabama they are welcomed everywhere !
 Summer fun includes the hounds, This is Bubble Day in the front yard with our Dearest Girl Jasmine, supervising her charges, funny bubbles really don't taste as good as they looked!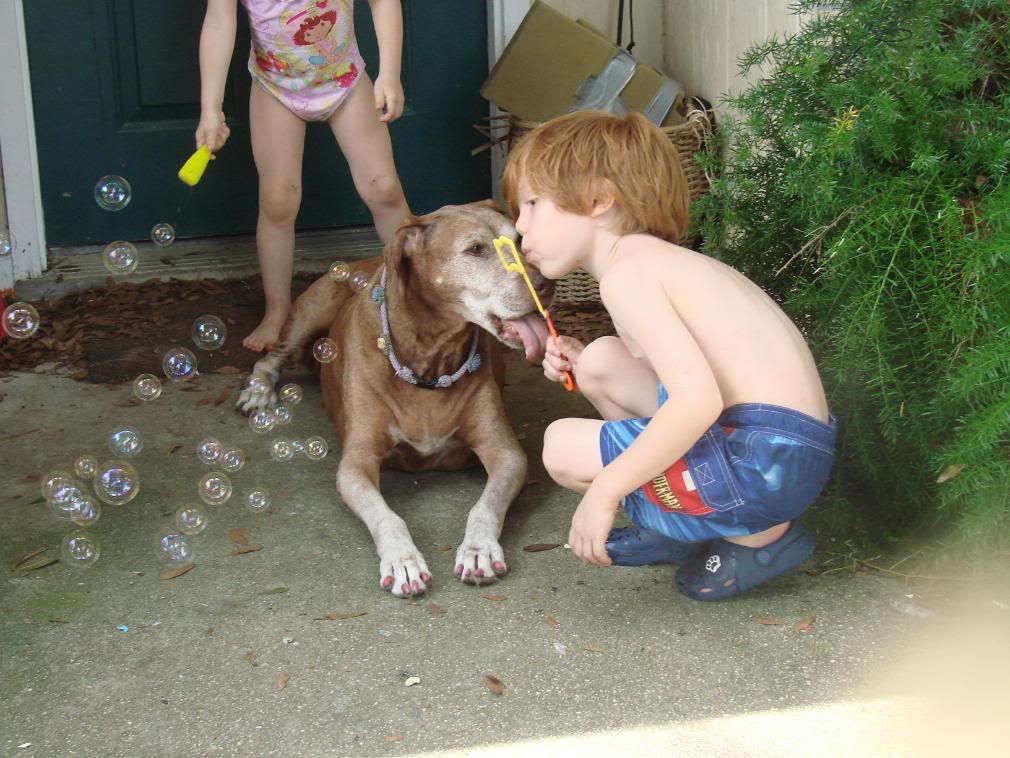 No one was ever allowed out of her sight. She watched each of the 5 Alabama kids from birth to her own crossing of the Rainbow Bridge.
Her loss was huge but the impact she had on their lives was even bigger.
 We take great Pride in knowing the work that we lovingly lavish on our kids and grandkids is appreciated by others as well. Here 4 year old Ceattle is helping good friend and honorary 'Aunt" Mary Phelps, with Abram, a young ridgeback who is being raised to become a service dog for some lucky person in the future. Having only  adults around restricts a dog's ability to understand the mind and physical limitations of a child. Ever eager to please, Abram would follow a young child anywhere. "Hope Ridge's Irish Whiskey" will fill someone's needs and heart one day, what a lucky person that person will be ! to see more about Abram and his visit with Rebbecca,  check out a sister web site at www.rebeccaofsouthridge.org  This site details the lives of a family of Ridgebackers after the youngest child suffered a traumatic brain injury.  They have been in Ridgebacks for over 40 years.
 Hope Ridge Kennel owned by Mary Phelps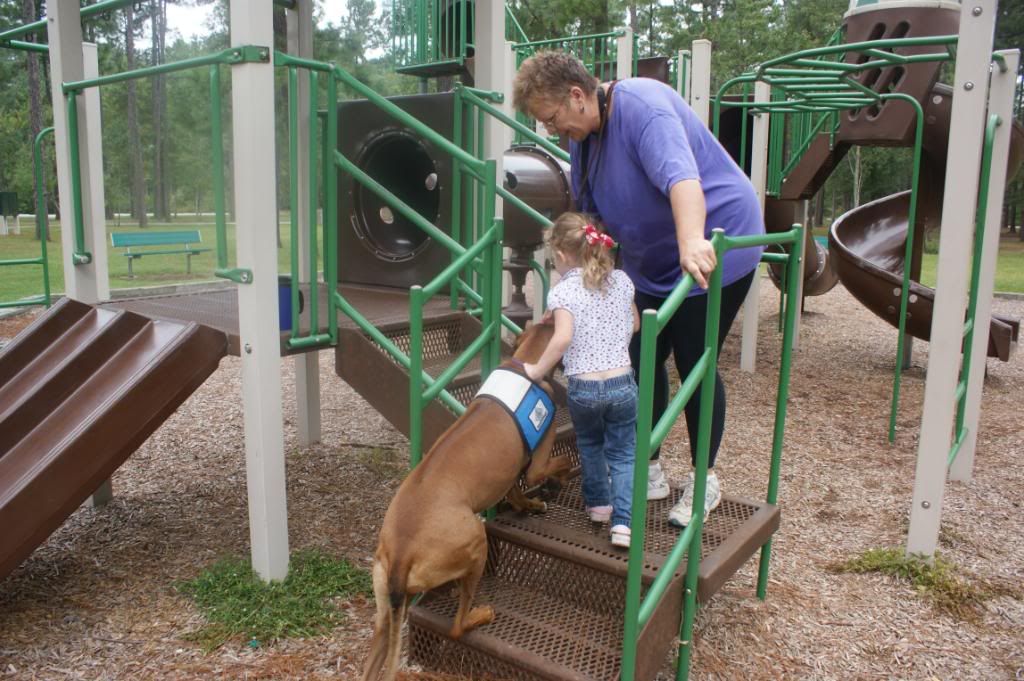 We truly believe a good dog begins in the whelping box, and really, a good child does as well.
Ali-Boo-Boo helping encourage a puppy destined for the show ring, the stacking blocks are a simple way to teach muscle memory. Time spent this way also teaches  need for calm voices and the patience to teach  the young to listen and stay focused. 2 and 4 legged
A group shot of our "kids" (Ben was at work ),  this was taken January of 09.  We are very proud of our pack, both the 2 and 4 legged members.! Below from the tiny blonde over.. Ceattle, Caitlyn, Alexzandra with Aunt Crystal, Tristan Bobby in front of his mom, Bonita Amiee.  We think we are very blessed!